On the cover of the Stampin' Up! Annual catalog is a kit called "Tin of Cards Project Kit".
Over the next week I will be sharing this kit as well as another project inspired by this kit.
This kit comes with the tin, 9 file tab dividers and, everything you need to complete 16 cards.
The kit comes with instructions on how to create the 16 cards. There are 4 designs and 4 cards per design.
This slideshow requires JavaScript.
the Kit also comes with:
This slideshow requires JavaScript.
Over the next week I will put together the cards and the tin.
I will share with you each of the card designs as well as my thoughts on the project.
So far just looking at the project up close I think it s a great addition to any stampers craft room.
I know that for me, even when I am stamping all the time it seems that when I NEED a card I don't have one handy.
I also know that when I really need a card I also don't have time to create one from scratch.
This kit fixes that problem,not only does it have everything you need to create a card quick it has a place to keep cards for those unexpected occasions.
Stay tuned to see the cards made from this kit and the project inspired by this kit.
to buy this kit for yourself just click on the picture below.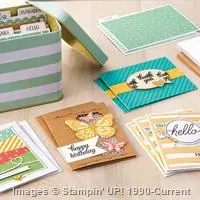 Built for Free Using: My Stampin Blog